DRUM-MATES ® Nozzle Dispensing Solutions
For equipment recommendations, email your completed Application Questionnaire to .

DRUM-MATES ® line of hand dispensing nozzles enable operators to increase the safety and efficiency of pouring applications, including bulk transfer, liquid repacking into smaller containers and add-mixing or replenishing solutions or chemicals into tanks or drums. Checking for the chemical compatibility of the liquid compound, solvent or solution being transferred is important, as with any process equipment.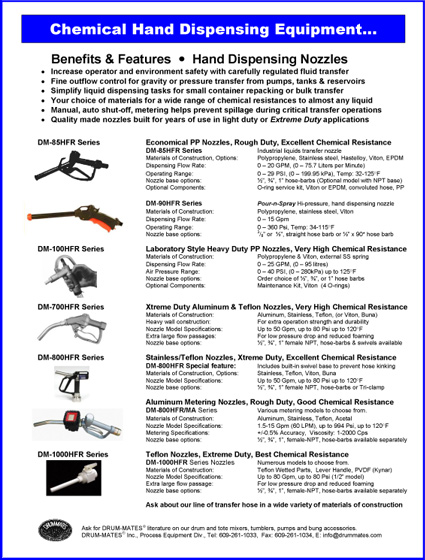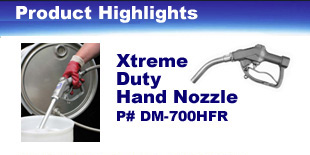 DM-700HFR, Xtreme Duty Hand Nozzle

Hand transfer virtually any solvent or liquid compatible with AL, Stainless & PTFE!

• Careful fluid control for operator & environmental safety
• Helps prevent spillage of critical dispensing operations
• Ergonomic handling comfort with long reach 8" spout
• Simplifies repacking or bulk transfer into any container
• Grounding lanyard ring for explosion-proof dispensing